The website examples below are a small selection of the sites that have been created and published online.
MayLee beauty
MayLee Beauty website with online shopping. PayPal enabled shopping cart and checkout. Demonstration videos for the application of nail lacquers. Treatment price list and appointment contact email.
This site has been updated recently using the single page. It still has all the functionality of the old site and more. If you follow the link it will take you to the new site.
888honeybaba
One of our first websites 888honeybaba was an early challenge. With 500 products, database for stock control and pricing. Photography was undertaken where original images were not available.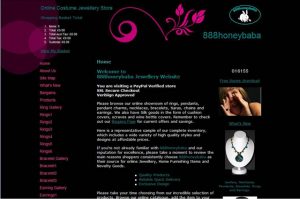 Painted Furniture by Kristin
Painted Furniture by Kristin a website with online store for the sale of hand painted home furniture. Full size image gallery for detailed product inspection. PayPal enabled and email notifications for completed sales.